A few of our dogs past and present
Aery Poodles has been in existence since the early 1990's. Aery has produced nearing 100 champions consisting of Group and BISS winners as well as winners at the National.
The following are photos of current and some past favorites from our breeding program.
BISS Gr Ch. Aery's Athletica, "Lulu" is a group and BISS winner and is sired by PCA BOV winner Gr. Ch. Zelon Driving Mz Daisy Crazy out of PCA Regional WB/BBE Ch. Aery's Grey Gardens.
Lulu is retired from showing and is now being used within our breeding program. Her children are just hitting the show ring and making waves!
Gr. Ch. Aery's Bambalam, "Betty" was in the top 10 miniature poodles while she was shown sparingly during her career, both on the West and East Coast. Betty is sired by the late Ch. Aery's Absolute Chaos and out of PCA WB/AOM winner Ch. Aery's Intuition. Betty is a Top Producer, producing beautiful champions for us.
Ch. Aery's Grey Gardens, "Edie" was WB/BBE in Show at the 2013 PCA Regional Specialty in Oregon. Edie show career was short and sweet! She was 1st in her class at the National at just 6 months of age and then a few months later going on to win WB and BBE in SHOW at the PCA Regional in Oregon! Edie only had one litter and had to have an emergency spay, but produced the lovely Gr.Ch. Aery's Athletica. Edie is now happy sleeping on our bed and being the boss of the house.
Ch. Aery Silde Paint It Black, "Mick" is a current stud standing at Aery. Mick was a quick finish with a group placement to complete his championship. He's producing beautiful puppies in white, cream, blue AND SILVER! He is is also a lovely house pet here at Knolveston Farm.
Ch. Aery's Intuition, "Vivian" was one of our favorites here at Aery. She was our first breeder/owner handled PCA National winner here at Aery which made her even more special. Vivian's kids and grandkids are continue her winning ways as she made quite the stamp on her contribution to what Aery poodles are today.
Ch. Aery's Don't Fence Me In, "Bing" is sired by PCA National BOV Ch. Zelon Driving Mz Daisy Crazy and out of Ch. Aery's Bambalam. He's a stylish boy with a wonderful temperament. Bing had an unfortunate accident at his owner's home and is unable to produce. His sister Ch. Aery's No Box For Me, however has produced multiple Champions!
Ch. Aery's Shake Rattle and Roll, "Rattle" is a beautiful silver our of our Ch. Aery's Bambalam and sired by Ch. Alegria History In The Making. Rattle finished very quickly and is now starting her "Special's" career!
Ch. Aery's All Gussied Up, "Gussie" yet another silver star sired by Ch. Alegria History In The Making. Gussie, not to be outdone by her slightly older 1/2 sister Rattle, also finished very quickly as well! We expect great things from "Gussie Sue"!
Ch. Aery's The Color Of Boom, Tater, is the latest PCA National Winner from Aery. Tater was Winners Dog at the 2019 PCA National! We're very proud of this beautiful cream boy.
Ch. Aery's Your Move is the result from an outcross to Ch. Kiyara's Living On The Edge and out of GCh. Aery's Bambalam. Checker is co-owned with Katherine Wintroath in California and will be coming back East to us to stand at stud periodically. He's lovely, typey black male that carries a cream/white gene and possibly silver. We look forward to seeing what this boy produces for us!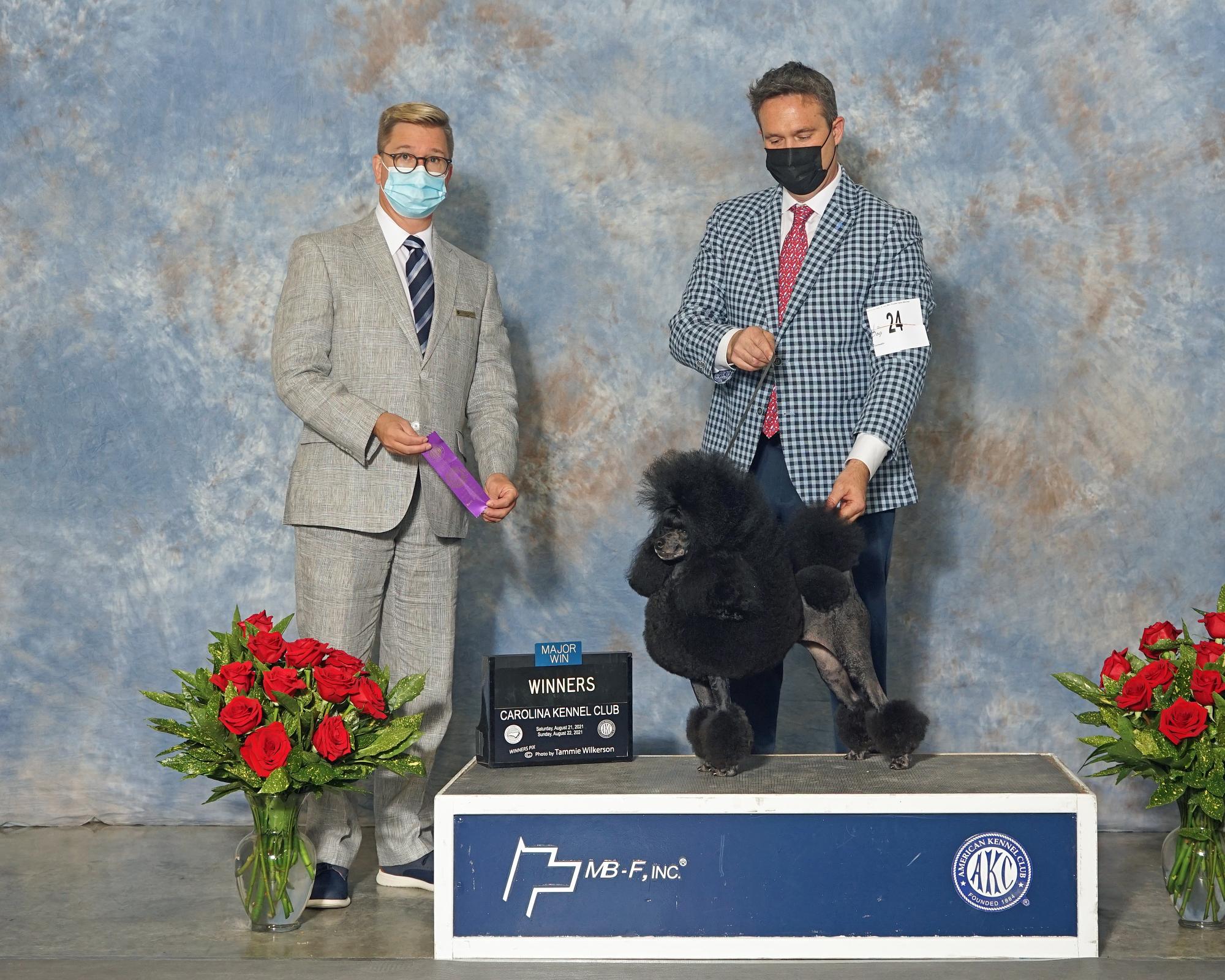 Ch. Aery's Wicked Wench Pearl is one of our newest champions. She's owned by Aery and Kaye Hobbs. She's sired Ch. Aery Silde Pain it Black and out of Ch. Aery's No Box for Me.
Ch. Aery's Night Shade is a beautiful silver male that exudes type. He has a stunning head piece and lovely make and shape! Looking forward to seeing how this young male produces!